Dr Christopher W Jones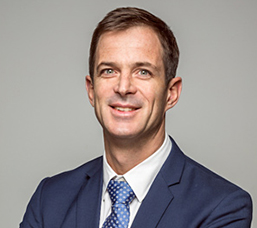 Dr Chris Jones is a triple-fellowship trained Orthopaedic Surgeon with a PhD from the University of Western Australia in surgery, pathology and biomechanical engineering. Raised in Western Australia and educated at Hale School, Dr Jones graduated with Bachelor of Mechanical Engineering (Hons) and Bachelor of Commerce (Hons) from the University of Western Australia in 2001. Taking a break from studies he travelled the world as a successful professional rock climber enjoying many adventures "off-the-beaten-track". Returning to Australia in 2003 he commenced a PhD program in Biomechanical Engineering at UWA designing and building a novel laser scanning confocal arthroscope and investigating matrix-induced articular cartilage implantation whilst working closely with several leading Orthopaedic Surgeons. Inspired by this experience he enrolled in Medicine at the University of Sydney and after completing his PhD (UWA School of Engineering & School of Medicine), graduated with Honors from Bachelor of Medicine & Bachelor of Surgery in 2007.
After completing Internship & Residency programs at the renowned Royal Prince Alfred Hospital in Sydney, he undertook a year of unaccredited orthopedic training at RPAH prior to being accepted as an Australian Orthopaedic Association SET trainee in 2011. In 2015 Dr Jones completed his advanced training in Orthopaedics with the Royal Australian College of Surgeons gaining Fellowship of the Australian Orthopaedic Association (FAOrthoA) and Fellowship of the Royal Australasian College of Surgeons (FRACS). In 2016, Dr Jones completed the AOA Allograft Fellowship in Complex Joint Reconstruction at the Perth Orthopaedic Institute in Western Australia under the supervision of Professor David Wood, Professor Richard Carey-Smith and Professor Piers Yates. In 2017, Dr Jones completed the AOA Adult Knee & Hip Reconstructive Surgery Fellowship at the Mater Hospital in Sydney, NSW under the supervision of Professor Bill Walter & Dr Bernard Zicat.
Most recently Dr Jones completed the Complex Joint Reconstruction Center Fellowship under the supervision of Emeritus Professor Thomas P Sculco at the #1 ranked US Orthopedic Center, the Hospital for Special Surgery in New York City, USA. Whilst in New York, Dr Jones continued to develop his special interests in primary hip and knee replacement, unicompartmental knee replacement, hip resurfacing and complex reconstruction of the hip and knee particularly in the setting of infection, multiple revision surgeries or prior trauma. He is also attained full certification in MAKO robotic hip, unicompartmental and total knee arthroplasty. Dr Jones is proud to have returned to Western Australia in July 2018 to take up a position as an orthopaedic Visiting Medical Officer at Fiona Stanley, Fremantle and Rockingham General Hospitals. He works privately through Orthopaedics WA at St John of God Hospital Murdoch and The Mount Hospital.
He continues to develop multidisciplinary research interests across the engineering, biomedical engineering, and cell engineering and has been appointed Senior Adjunct Research Fellow in the Department of Biomechanical Engineering at Curtin University.
Dr Jones has presented at numerous regional, national and international conferences, has authored three book chapters and published more than 20 peer-reviewed publications in high impact journals with numerous other publications in the preparatory phase. He is actively involved in the teaching of medical students and trainees at all levels as acknowledged by his appointment during fellowship as a clinical academic at Weill Cornell Medical College and as a Senior Clinical Lecturer at the Central Medical School, University of Sydney. Dr Jones's research interests include: articular cartilage repair/regeneration, Matrix-Induced Autologous Chondrocyte Implantation, bioscaffolds, bioengineering & cellular engineering in addition to revision arthroplasty & complex limb reconstruction, design & manufacture of custom orthopaedic implants & prostheses, and retrieval analysis of arthroplasty devices and orthopaedic implants.
Happily married to Dr Kharis Burns and the proud father of a young son, Dr Jones is a dedicated, hardworking, diligent and enthusiastic Orthopaedic Surgeon who is committed to training future generations of orthopaedic surgeons and biomechanical engineers. Most importantly he continues to cherish a sense of wonder, privilege and excitement towards the practice of orthopaedic surgery and the care of his patients.
For more information about Dr Christopher W Jones :

Click Here
---