Ruben Mazzucchelli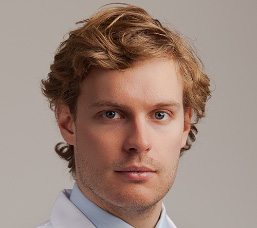 Ruben grew up in Lugano, in the Italian part of Switzerland. He attended Medical School at the University of Zurich from where he graduated in 2010.
He underwent training in general and trauma surgery in different swiss hospitals before starting orthopaedic training at Kantonsspital St. Gallen in 2014.
He completed orthopaedic training in 2016 and took up a consultant position for the Saint Gallen Regional Hospitals where he worked in the Knee and Hip Surgery Team. Ruben moved to Perth in January 2019 to work as the Primary and Revision Arthroplasty Fellow for Prof. Piers Yates.
Upon returning to Switzerland in 2020 he will be a consultant in the very busy Orthopaedic and Trauma Department at Kantonsspital Winterthur, near Zurich.
Ruben is a teaching associate at the University of Zurich since 2017 and serves as an ATLS instructor.
His particular interests are primary and revision arthroplasty of the hip and knee, open and arthroscopic knee surgery and general traumatology.
During his fellowship in Perth he gained vast experience and confidence in primary joint replacement with a variety of implants and techniques, revision joint replacement, hip resurfacing and joint preserving techniques around the knee.